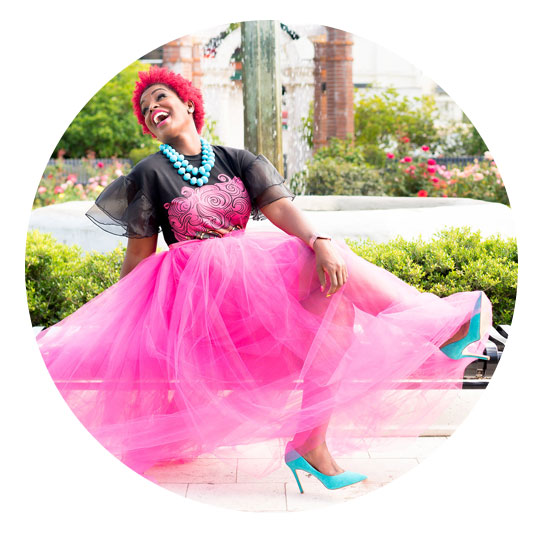 Katrina Lee-Jones
COSTUME DESIGNER + STYLE TRANSFORMER
Risky. Edgy. Classic. Innovative.
These are a few adjectives that can describe a stylista whose eye for fashion cannot be merely viewed, only experienced. Katrina Lee-Jones, was born in Madison, Florida. This small-town girl realized that her passion for fashion was conceived during her adolescent years by adding accessories such as laced tights and scarves to basic mechanisms to enhance her wardrobe. From this point, Katrina endeavored to learn all she could about fashion to later market herself as an exclusive, unique commodity.
Katrina has had the opportunity to work on behalf of the following well-known retailers: Cacique, Gymboree, Gap, Erno Laszlo, United Colors of Benetton and Sisley, New York & Company and Neiman Marcus, to name a few. During her tenure with these companies, she has acquired critical knowledge that she applies to her life and the lives of every client she encounters. Katrina understands the various body types of her clients and can access the style needs of her clients with a mere glimpse. She can empathize with the working mother who yearns for her child's wardrobe to be inventive, trendy, and economical simultaneously. She identifies with her clients to give them a sense of style and as a result will pull together a look and add spice to their wardrobes, along with accessories to complete the look. She values the plight of the woman who wants to be sexy, but not excessively provocative-and will offer techniques on how to expand her current wardrobe. Katrina also recognizes that the everyday woman wants to look impeccable on a budget. Consequently, she can transform the posture and esteem of any of her client's male and female with a simple look. Katrina, is also the Co-Host of the TV show Style Check, a fashion-oriented talk show on AfroTV on Xfinity Comcast.
Katrina has used her knowledge and experience as a fashion stylist to take her gift to the next level as a costume designer. Katrina has worked on several films, where she oversaw the costume department. Using her keen eye to detail, Katrina can develop the characters that are on paper to life on film.
Katrina is inspired to create through sources, "I am inspired via magazines, fashion shows, seasonal trends, people I encounter, streetwear, or my immediate environment. Not just one thing gives me inspiration." She adds. "I mostly have a vision of the look I want to create and I go from there. I am confident with being uniquely me; I have the ability to keep up with fashion trends and set them." Katrina exudes confidence and sophistication in everything she endeavors to accomplish. It is evident that this fashion stylista has a continuous love affair with fashion and it is improbable this union will ever secede.
Katrina is a graduate of Florida A&M University and the University of Phoenix where she received degrees in Public Relations and a Master's in Business Administration. She is the mother of two smart and beautiful children, her daughter Shania and son Sage Jones.